I've been messing around with alternative types of ferrules ever since I started making rods. Over the past year or so I have been testing and tweaking an internal graphite ferrule design using the same basic principle as the common spigot ferrule that is found on many graphite rods (Scott, Winston, etc.). So far I am very happy with the functionality and feel, though it isn't quite ready for Prime Time just yet.
I'm going to have a couple finished rods (and maybe a blank) available for sale over the next few weeks. Keep an eye on the Available Rods page or get in touch if you might be interested.

I also wanted to share a photo of my shop as I get quite a few people asking about where I work. I did some major upgrades last fall including better lighting, some new benches and tools, as well as a new dust collection and air filtration system. Here a shot showing the almost finished shop:


I am back in town, dried out, and getting rolling in the shop again.

Thanks to everyone for the patience while I was gone. Fishing was good, though the lack of snowfall this year pushed everything ahead a few weeks so the water levels were low and warm making the fish very spooky and difficult to entice.

We spent a lot of time fighting over who would get to fish the new two-handed rod, a 10'9" spliced joint spey/switch rod, and I very much enjoyed fishing with a brand new prototype 9'3" 3pc 8/9wt that I finished just before the trip. Here is Ken - with a smoke and a smile - hooked into a steelhead and putting a bend in the two-hander.

I'm afraid I didn't get any good fish pictures. This might give you an idea why:

I'll be out of the shop, completely off the grid and out of touch between April 5 and May 1 chasing some spring steelhead. I might have some limited access to the internet from the 18th through the 21st and I will try to answer any emails I receive at that time. However, if you don't hear from me before the first of May, please don't be too surprised. As always, I appreciate everyone's patronage and patience.

With any luck I'll have some new stories and photos to share.

It has been a while since I spent the time to do any significant website updates. This week I have made a number of changes and improvements.

I redid the Wrap Color Selector page to reflect the colors of thread that I like best and most often use rather than a list of available Pearsall's thread. I also spent some time trying to get the colors to be as accurate as possible. It is much improved.
| | |
| --- | --- |
| | Next on the list was to finally get some more testimontials up. I can't tell you how much I appreciate all of the great feedback and awesome photographs that I have received over the years. Please, keep them coming!! |
---
I am going to try and do a better job of keeping up with updates. For now, thanks again for all the support over the past 11 years!

| | |
| --- | --- |
| Article in German Fly Fishing Magazine FliegenFischen | Jan 26, 2016 |
Back in December 2014 I did an email interview with Aleksandar Vrtaric, a contributor to the German fly fishing magazine FliegenFischen. After the interview I didn't hear anything until I got an email from a gentleman mentioning the article in the current, December 2015/January 2016 edition. It ended up as an interview with three North American bamboo rodmakers, Matt Schliske, James Reid, and myself. Below are links to the four page spread.


| | |
| --- | --- |
| As of June 1, 2015 Amazon is discontinuing the Amazon Payments program. As such I'll no longer be able to receive payments via that system. I can still accept checks, money orders, Paypal, credit cards, and bank transfers (with approval). | |
Just got back the other day from fishing and we had a great time. The weather was absolutley gorgeous, which was great for camping but not so good for fishing. Regardless we got into some good fish and had a lot of fun. I put up a small gallery of fish and other miscellaneous photos from the trip if anyone is interested.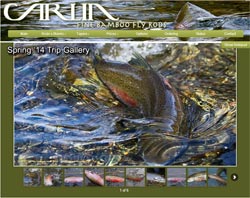 2014 Spring Trip Gallery
I will again be out of touch from May 11-17. Until then I'll be working in the shop most days and should be available by email or phone if you need anything at all.
| | |
| --- | --- |
| Out of the Shop and Off the Grid - Testing Rods | Apr 9, 2014 |
Just a quick note to everyone that I'll be out of contact from April 13th through April 28th. We're heading out on our annual steelhead trip where there is no cell service nor internet. Feel free to continue to send me emails or call. If it's before I leave on Sunday AM I should be around and available. If it's while I'm gone I'll get back with everyone as soon as I return to town. Until then...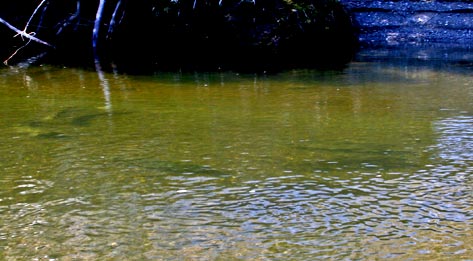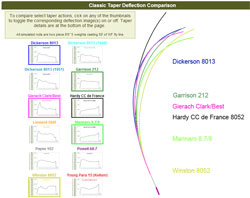 Have you ever wanted to objectively compare the action of different rod tapers but haven't had the chance to cast them?

I had a bit of an epiphany last night that kept me from getting any sleep but the result is really cool. This new Deflection Comparison tool allows you to view the bend of assorted rod tapers plus toggle them on or off so you can view just those you are intersted in - directly comparing. View the deflection of 2 or 12; just click the thumbnail image to turn the deflection view on or off for each selected taper.

Hopefully this will help to answer some of those questions about how certain rods feel and their action characteristics - i.e. fast, medium-fast, etc. I'll be putting together the same thing for my custom rods very soon and will eventually try and write up some observations about different rods and how they stack up against each other.
Built up a few more pages over the weekend. Back by popular demand are two photo galleries, Fishing and Miscellaneous. Permanent links are on the side menu on the Home Page.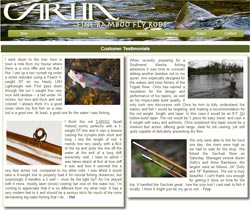 I am also slowly adding to the new Testimonials page. I wanted to start fresh with this one so I'll add as I get reviews and permission from customers.

Please feel free to shoot me an email with a review and, if possible, some photos if you'd like to help me out and have it posted.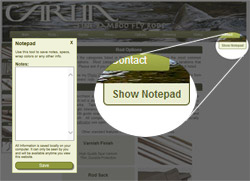 And lastly I added a Notepad feature to all of the Options pages, the all of the Tapers pages, and the Rods Photo Gallery in case you wanted an easy way to keep track of notes, rod details or any other info you'd like to save. All data is stored locally on your computer so it is only visible to you. I'm not sure how useful it will be but it was a relatively easy add on that sounded like a fun option. Please let me know if you like it.

I am now able to process Visa, Mastercard, Discover and American Express credit and debit cards manually so if you prefer to call with your card information or pay in person with plastic, those are now options.


I have also enabled Amazon Payments as another payment option. Basically you are able to pay through the Amazon system using your existing Amazon account so it is very safe and secure.


I finally got around to getting the updated taper pages in place. Well, more-or-less. I still need to fill in some descriptions, especially for the Mainspring rods. I haven't started on the Quad, rQuad or trQuad page yet, though I'm hoping to get to it sometime in the next week.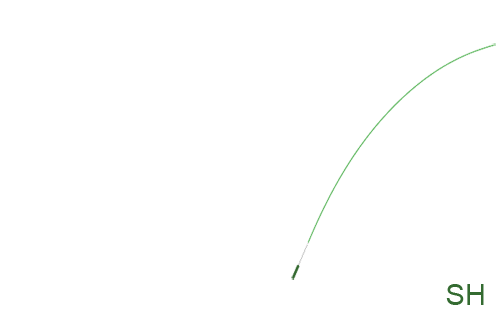 I added some interesting features for comparing my Custom tapers. Like the one on the right, you'll notice a small image that shows the rod's deflection under load at various points through the casting cycle. If you hover your mouse pointer over the image you can see a larger, animated version. All the simulations are made using the listed taper in an 8'0" 5 weight 2 piece configuration with 50' of DT line. In addition, at the bottom of the page there is are a few images of most of my custom tapers under load, both side by side and in overlay. I'm really hoping this helps give an idea of how each will act when casting. It is hard to describe in words - 'fast', 'parabolic', etc. doesn't really cut it - so I'd love to know if you think these new methods are more effective and helpful in communicating the rod's action.

You may have noticed that all of these udpates have been in regards to the website. Rest assured, I've been spending plenty of time in the shop as well and will have a new batch of several rods finished within the next two weeks.
Well, after another week of adding, changing and cleaning, I think I finally have all of the main pages in place. You shouldn't get any more 404 Errors though not all of the pages are in their finished state, especially in the customer spec pages. I'll get to those as I can as the important stuff - the rod specs - are in place, they're just not properly formatted in conjunction with the new site aesthetic.

If you find anything missing, broken links or think something should be added or modified, I'd love to hear from you.
Hello and welcome to the new site!

Its been a long time in the making and I wanted to get it up and running for the new year and my 10th anniversary making bamboo rods. I've added some new features like examples of most of the rod options available - grip shape, reel seat style, etc. - and upgraded the photo gallery to something a little cleaner, more dynamic and informative.

For a while there will be some dead links as I get the remaining missing pages built and uploaded. In the meantime, if you have any questions please get in touch.

If you see something that looks wrong, you're having problems viewing a page, or you would like to see something added, don't hesitate to email me. As you can imagine, redoing an entire website isn't a small task so any troubleshooting help is appreciated.

As always, thanks for your patronage and interest. I haven't just been programming the website, I have been spending a lot of time in the shop as well so expect to see some new rods and other stuff soon.

Cheers,
Chris